Posts

626
Reaction score

857
Hi all!
This guide will show you how to use the new Movies Database add-on to post Television series so that we can all chat about them! It's an exciting new tool and can help us learn about the latest Television series that not everyone may know about, or reminisce about a classic we all enjoy

. Fortunately, it's very easy to use and requires just a little bit of effort to get a title entered into the database!
Step 1: Find Your Title!
So you've got your television series in mind that you want to add and chat about, but now you need to add it to the list! This part is nice and simple, you'll see a box asking you to enter a link or a Title ID with some text directly below it. Part of that text says to check the Movie Database to find your title, so let's click on that!

Step 2: Search For Your Title!
Now that you're in the Movie Database, enter the name of the Television series you're looking for in the search bar, as shown below.

NEXT:
Then pick your series from the list of results!

Step 3: Copy the Link in the Address Bar!
Once you select your title from the list of results you will see an address in the address bar of your browser, copy that, just as you see in the screenshot below.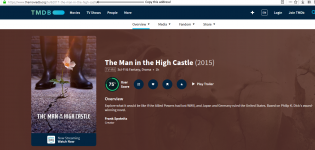 Step 4: Paste The Address and Post the Thread!
This part is nice and simple, return to the forums here and use the box just above the Movie Database link we clicked before to paste that address and post your title to the database! It's important to note that when you click on the box to paste the address, it will expand with a larger box. You can type text in here if you want to, relevant to the series you're adding, but you do not need to as the database will automatically populate with information about the series itself


You've Done It!
Now you'll see your series on the list and can jump in and discuss!

Final Step: Get Chatting!
That's it, you're all done, now get posting about that TV series and enjoy!

It's that simple! Hope you all enjoy it